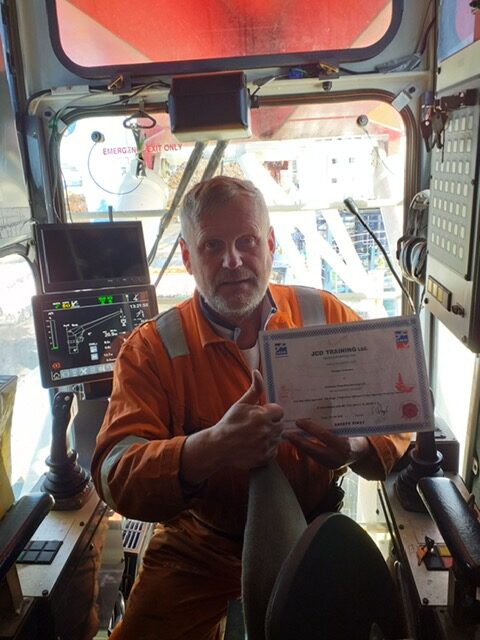 Sergejs Prohorovs from Latvia Sergejs has now attended our stage 3 offshore crane operators course in Singapore, Vietnam, and recently in Newcastle, UK (refresher) Brilliant to have an operator who has now attended 3 courses!
Crane Operators who have travelled from all over the world to attend and below operators stated the training course was of a very good standard and they would definitely return.

Adrianus Markx
Michael Rayen
Kevin Tate
Piotr Makson
Jerson M Ledesma
Joseph Schoeman

Crane Inspectors who have travelled from all over the world to attend and below inspectors stated the training course was of a very good standard and they would definitely return.

George Mitchell
Michael Brown
Matt Gillespie
Andrew Warner
Chris Withey
Tony Oak

David Hodge Heavy Lift Derrick Barge Offshore Crane Operator, Swiber

In 35 years of operating cranes this was the most comprehensive course given by an extremely competent Instructor, Craig Douglas.

Eddie McWilliams QHSE & Training Manager, Aban Drilling
As the Corporate Training Manager for Aban Drilling I have a duty to ensure that I supply training programmes which meet internationally recognised standards to ensure our workforce are qualified and competent in their position. I have engaged JCD Training in several parts of the world and regardless of where that has been, their high standards remain the same. JCD have always remained cognisant of costs, which is a high priority of all companies these days, and have always worked with me to deliver a competitive package. I have found that JCD endeavour to supply facilitators who have knowledge of the local language and cultural expectations. These facilitators are also very flexible when conducting courses on-site to ensure there is minimum disruption to the operations taking place while still delivering the complete training package.

Ray Bisanti Barge Master – OIM, Energy Driller
I would  like to thank you for providing a very professional service. Johnny and George have been very proactive and their instruction and training has been appreciated and absorbed by all the students. The training will be to the benefit and improvement of the safety of the Energy Driller.

Much appreciated

Peter Grin Rig Manager – West Prospero
Hereby I would like to thank you and your team for a very good professional way of training my crews, your team has been very flexible and willing to adjust their hours to fit in with our daily work.

A well done job, very appreciated

Donald Millar Rig Manager – West Triton
A quick note to say thank you to you and your team for the training you have carried out on the West Triton since the beginning of 2010. During this period we have crewed the rig up in Myanmar, Indonesia and now Thailand, on each occasion we have asked you to provide trainers to get our crews up to a competent level. On each occasion they have proved to be keen to work, competent to do the training and very flexible regarding making themselves available to conduct the training whilst the rig has been operating.  We will have no hesitation using your company in the future to fulfil our training needs.

Jim Sanford Operations Superintendent "Atwood Vicksburg"

Atwood Offshore Drilling Limited (Thailand Branch)

I started using JCD training in 2003 while working for Pride International in Indonesia when we felt we were wasting our money on the local trainers.  JCD brought in good quality instructors and got the job done.  Then in 2005 JCD really helped us get our training up to date in a hurry for a fast mobilization to Thailand when about 70 percent of the crews were new hands from Thailand.  And once again I've received good feedback from the rig on the recent training you've done on the Vicksburg.  Thanks again JCD Training Services and keep up the good work.


David Burton QHSE & Training Coordinator

KCA Deutag Drilling (Thailand) Ltd
Training was well received by Rig Crews and Rig Management. Thank you for your professionalism in your work performance. KCA Look forward to many years of continued partnership in getting training needs accomplished for our crews. 
Eddie McWilliams, HSE Manager, GlobalSantaFe
My name is Eddie McWilliams. I am the Regional HSE Manager for an International Drilling Services Contractor, GlobalSantaFe Corporation here in South East Asia. I would have no problem recommending Craig Douglas and the services he provides.
I have worked with Mr. Craig Douglas and his Training Services Company for many years. He has always provided a very Professional, Structured and Comprehensive Training Package for all the categories I have required.  His training and certification meets worldwide recognised standards which is a requirement from both my own company and our clients.  What particularly pleases me about Craig's Training is the fact that he conducts most of the courses himself and therefore insures that his standards and training are consistent. In classes where Craig has not been conducting the Training, he is normally present to monitor the other instructors.
In particular:

Crane and associated Lifting Training e.g. Crane Inspector, Crane Operator,

Crane Banksmen, Rigging & Slinging, Forklift Operator, Scaffolding, Abrasive

Wheel Safety & Regulations etc.
I have been fortunate to obtain his services in the various parts of the Middle East, North Sea, South East Asia.
His Training packages have been adapted to suit the appropriate cultural and language requirements in the various regions and he has achieved this without compromising his own high standards.
Terry Brown, Rig Manager Compact Driller, Thailand
JCD Training Services have carried out various types and standards of training on behalf of GlobalSantaFe on the Drilling Rig "The Compact Driller" based in Thailand, as well as carrying the same training on many of our other vessels for a number of years.
The training carried out has always been to a high industrial standard and improved our workforces knowledge and understanding of the requirements to work safer with the environment in mind. JCD Training Services shows dedication and pride in the way their training elements are presented and produce first class results though their achievements with the workforce, thanks to Mr.Craig Douglas.
James Broyles, Rig Manager, Ensco53
I hired Craig Douglas of JCD, for his first job in 1991. Shortly after meeting him on one of our rigs, while he was employed with another company, he contacted me to offer his services as an independent trainer.
Having seen his exuberance and devotion to his work under another companies direction, it was clear to me that he was dedicated to his profession.  He was hired for further training services on another of our rigs within the week.  According to Craig, that was his first job as JCD Training Services.
I have never regretted that decision.
Several years later, I ran across Craig again in the Asia Pacific Region. He hadn't lost a single ounce of the energy that allows him to capture the attention of crews and effectively train personnel to the highest standards.  Indeed, it is the intensity and integrity of his service that makes him a consistent provider of services to our current fleet.
In the past two years alone, JCD Training has conducted invaluable training to the crews on a number of our Asia Pacific offshore rigs, and I am aware that he provides training to most of the major drilling contractors in the area.
The extent of his training capabilities has grown considerably over the years.  From what was little more than "Banksman Slinger" & "Forklift Driver" courses in 1991, to a curriculum of expansive proportion in 2002, Craig has developed his company to meet the needs of current industry standards.
Craig is prompt, mobile, flexible and personable.  He will bend to meet your needs at almost any level as long as he is not asked to compromise his integrity.  I have never met a crew member who had a bad experience in his courses. His ability to work with foreign nationals with no English skills is extraordinary in itself.
If your true objective is to communicate with and train your crews to higher levels of understanding and performance, then JCD can accomplish that goal.
I highly recommend them.
Ken Sevinski, Senior Drilling Manager, Unocal Thailand
Good training, I like the on the job approach, it gives the crews immediate insight as to what is being taught.
Stuart Meachen, Safety & Training Director, Global Industries
JCD training services have provided Global Industries Ltd an outstanding service in the field of rigging & slinging,  crane safety,  scaffolding and forklift training to our personnel in some often very remote locations.
JCD have continually demonstrated their level of professionalism and enthusiasm throughout the years of their association with myself and the various offshore construction companies that I have worked with.